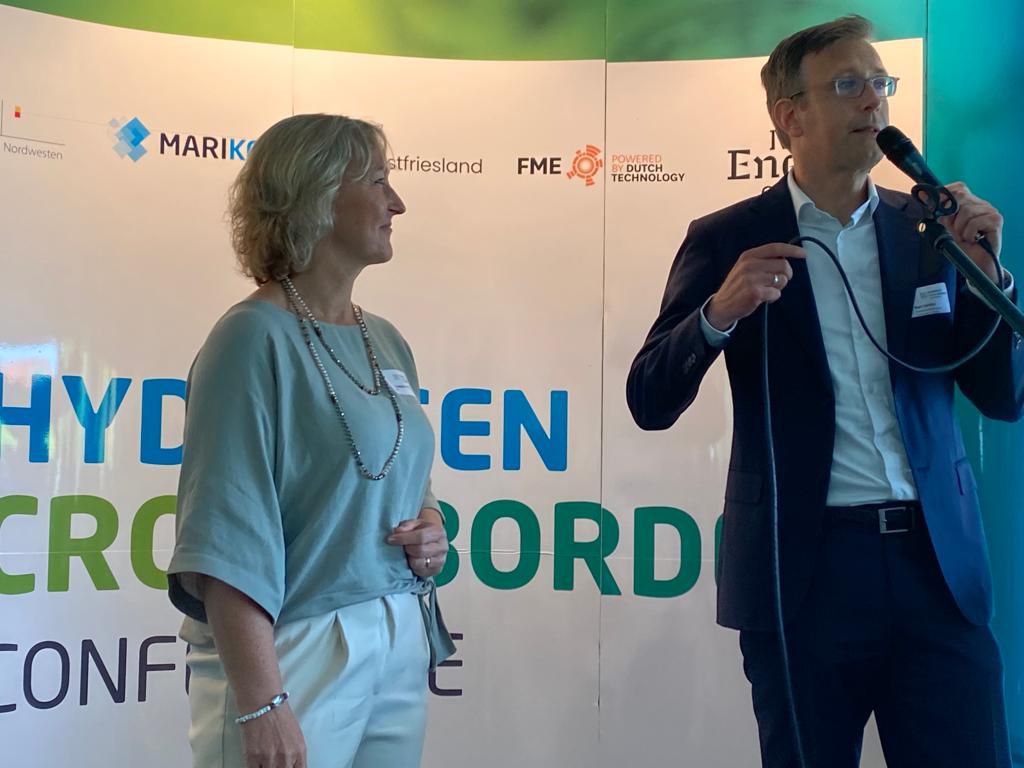 Hydrogen connects: Cross-border conference under the sign of the German-Dutch Innovation Pact
Together into implementation – this was the motto of the German-Dutch Hydrogen Cross Border Conference, which took place in Leer on 17 May 2022 with over 200 participants. Hydrogen experts and interested parties from the fields of industry, mobility, port and shipping as well as acceptance research discussed current topics and challenges facing the hydrogen economy in Europe. In addition, best-practice projects were presented that contribute to the north-west of Germany and the northern Netherlands being regarded as the hub of the European hydrogen economy.
Exciting discussions and need for talks abounded: the climate and geopolitical situation, (lack of) funding and financing opportunities and regulatory framework conditions, major technological advances, an industry ready to take off and growing supra-regional cooperation were the contents of the discourse held at various professional levels. "Money alone is not enough to make the hydrogen economy a reality", stated Theo Henrar, chairman of the FME business association from the Netherlands: "Cooperation between private and public parties, a strong infrastructure and rapid adaptation of laws and regulations are essential for a successful energy transition". The fact that this must not be thought of locally, but Europe-wide, is shown by the success of the cooperation between Germany and the Netherlands, which is unique in a European comparison. Numerous cross-border projects and the high level of participation of important actors on both sides of the border have clearly shown that these points are being addressed in the Germany-Netherlands border region. Even far beyond the joint conference.
The German initiatives H2-Region Emsland, Oldenburg Energy Cluster (OLEC), MARIKO GmbH and the Dutch institutions FME and New Energy Coalition jointly organised the event. The Hydrogen Cross Border Conference was financed by the state of Lower Saxony within the framework of the H2-Ostfriesland project and the "NL in Business" initiative.